Reviews
Practice Log
Woodsheddin'
Downloads
New Features
Support
Links
Footcontroller Delight?
by Warren Sirota
A Disappointing Start
Although I lead a music technology company, I am not a card-carrying member of the New Gear of the Month club. In fact, from MIDI guitars to synthesizers to guitar effects, I have found Gear Acquisition Syndrome to be neither musically satisfying nor a good investment approach. It's sad how quickly today's hot new box becomes tomorrow's old news – my observation is that most investments in music (and computer) technology lose at least half their resale value every year. You have to be pretty well-to-do to keep up with this stuff.
Since I've been playing trad jazz on an archtop almost exclusively lately, I've had little need for fancy effects – a little bit of compression and a good-sounding reverb, and I'm happy. But I've been yearning to rock out lately, and so I decided to break out the solid-body guitar and the fuzzes and wahs again. Unfortunately, since my MIDI footcontroller permanenetly bit the dust a couple of years ago, I had no way of adequately controlling my vintage ART SGX-2000, a rack-mounted effects box with tube distortion and a good selection of digital effects.
But instead of getting just a new footcontroller, this time I opted to search for a unified footcontroller/effects device. Ease of setup at the gig is a primary concern for me, and nothing beats these units for convenience.
So, I went over to my local music store to check out the sounds. I had one strong wish – in addition to a great palette of general sounds, I wanted a unit with good wah-wah sounds, having sold my Crybaby some years ago.
So, the guy at the music store shows me the Roland GT-3 and DigiTech RP-2000 (first of all, I was surprised: I expected to see floor units with hot, glowing preamp tubes in them for true distortion. No dice – I'm so outdated. Now it's all physical modeling. I'm not complaining – I think the distortions are just fine, although I'm not one of those "only overdriven all-tube power amps from the early 60s will do" tone purists). I played around with each unit for a while, but when I arose, the music store guy said, "which unit impressed you the least?", because it was so obviously hard for me to get really excited about either of these units. Yeah, either one would do the general-purpose effects floor unit job well, but all the wah-whas were extremely wimpy. Plus, I had to learn how to edit and strip the distortion out of all those metalhead-geared presets (no offense, metalheads. We just have different tastes) before I could even hear the wahs.
OK, so I left the store thinking there was just no such thing as a good wah in a general-purpose effects unit, and I'd have to choose between either a high-end boutique wah-wah pedal and a general-purpose effects unit (I didn't have room in the budget for both together). I was bummed. If I had to choose between the GT-3 and the RP2000, I'd take the Roland, because the presets were more analog-sounding – the DigiTech unit seemed to have better high-end definition (and some really spiffy talker effects that I'd use once every two years), but it didn't sound appealing.
A Dark Horse Enters the Race
Anyway, I came home and hunted around on the Internet and found the Korg AX-1000G. I went back into the music store, which had these units in stock, and tried one out (why didn't the first sales guy show me one of these? I don't know – maybe because it's less expensive than the other units). It took all of 10 minutes for me to know this was the one.
What's so great about this? A really, really simple, dial-driven programming model. Truly luscious workhorse sounds, including great reverbs (critical for us clean players), classic choruses, and a GREAT WAH. Also, very classy emulations of classic phasers and flangers. And for really weird stuff, a pedal-controlled ring modulator. An excellent tremolo for that surf music.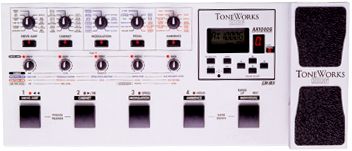 You get 10 banks of 4 factory presets and 10 banks of editable presets – I dedicate half the banks to sounds which I've tweaked for the archtop, half to the solid-body.
I'm very picky about this kind of thing. I tried to buy units like this a couple of years ago, and ended up returning them all. But finally, we have a single, easily-transportable box that can handle all my effect needs.
The AX-1000G also contains an easily-accessible tuner and metronome, pitch transposition, and looping effects
Oh yeah, the box has a phrase-trainer in it. Needless to say, that's one function that I think works better on a computer, with SlowGold or SlowBlast! (acknowledgement: this is a biased view)
Okay, so nobody's perfect
There are a couple of small problems with the AX-1000G.
1) The unit sports a Bank Up button, but no Bank Down button – you have to press two buttons at once with your toe in order to do this. That's seriously annoying and error-prone on the gig.

2) The tuner doesn't seem to like the complex signal from my archtop very much – I have to tune the octaves at the 12th fret instead of the open strings to get a good reaction from it.

3) The tap delay function lets you tap in a tempo for the delay time with the pedal. However, you must do this in an awkward way that makes it quite difficult to get an accurate delay tempo.

4) There is no MIDI In or Out. This is probably one of the reasons why the unit is such a bargain. However, it also means that you can't use your computer to save, load or edit your patches. Given the general low quality of patch editing software and the ease of editing the AX-1000G using the dials and buttons on the unit, I would say that this is a minor problem. But, if you were hoping to also control another unit or do amp channel switching from this footcontroller, you'd be out of luck.
The bottom line
It's got a list price of $495. I got mine for $299. I think it's a steal.